Virgin Gorda vacation rentals
Villas & apartments to rent, holiday homes in Virgin Gorda
Virgin Gorda is the third largest of 60 sun drenched islands that make up the exclusive British Virgin Islands. Surrounded by crystal clear Caribbean waters, Virgin Gorda is known for it's lavish yacht clubs, secluded coves and luxury villas.
Away from the gorgeous beaches such as Savannah Bay, Pond Bay and Mahoe Bay, Virgin Gorda and the other BVI islands have plenty to offer. The natural wonders of the National Parks such as Gorda Peak and the North Sound are full of walking trails and teeming with wildlife. Also not to be missed are The Baths - huge granite boulders grottos, saltwater pools where you can swim and snorkel.
| Top things to see & do in Virgin Gorda | |
| --- | --- |
| Spanish ruins at Little Fork National Park | ✔ |
| Visit Tortola's Road Town and Spanish Town | ✔ |
| Sage Mountain National Park, Tortola | ✔ |
| Explore the Cornish Copper Mines | ✔ |
| Swim with dolphins at Prospect Reef | ✔ |
| Sailing around the islands | ✔ |
| Scuba diving in the pristine reefs | ✔ |
Featured Virgin Gorda villas & apartments to rent
Like most places in the British Virgin Islands, the self catering accommodation options on Virgin Gorda cater for all budgets and tastes from quaint cottages to luxury villas on the beaches. Experience the best of Virgin Gorda by staying in a private vacation rental, many of which come with wifi, satelite TV and private / shared swimming pools. Holiday rentals - self catering luxury villas and apartments, are very popuar with families as they provide so much flexibility and are certainly great value and often lie within walking distance of the beaches and local amenities.
See all villa rentals
Things to see & do around Virgin Gorda
In addition to wandering around the fascinating and wonderful villages, wining, dining and sight seeing, there are plenty of festivals to enjoy if you are fortunate enough to be on holiday at the same time. If you are looking to spend a day or more away from your villa, then hiring a yacht is the answer. There are many charter companies who do catered sailing trips visting the other islands in the BVI.
| A few suggestions... | |
| --- | --- |
| Visit Tortola and explore Road Town, the Capital of BVI | ✔ |
| Arts & crafts festival | March |
| BVI spring sailing festival | April |
| Music festival | May |
| Food & wine & rum festival | November |
| Flotilla sailing week | November |
| Fireball full moon parties | Every month |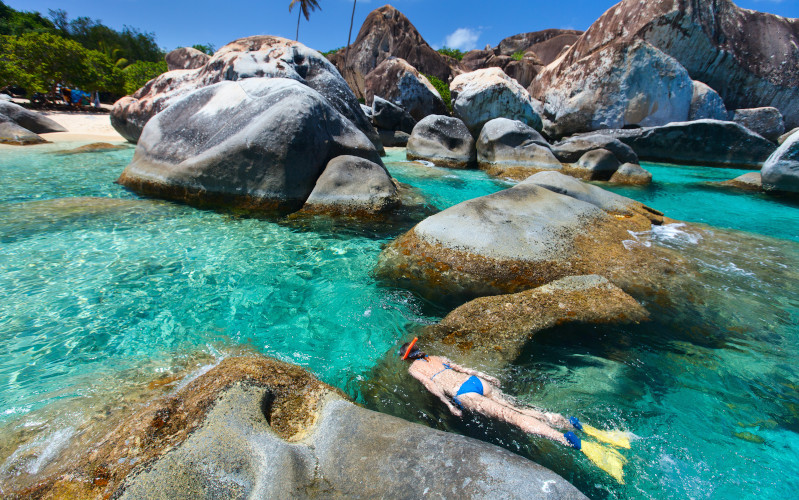 Our view on Virgin Gorda holiday rentals
Virgin Gorda is one of the jewels of the Caribbean. If you like relaxing on the beautiful beaches, watersports, sailing, scuba diving and dining in style, you can't go wrong on Virgin Gorda. And renting a self catering villa let's you do all of this at your own pace.