Aruba holidays
World class beaches, laid back atmosphere and family friendly
Sitting just 15 miles off the Venezuala coast in the tropical southern Caribbean lies the beautiful Dutch island of Aruba. With stunning white sandy beaches fringed by coconut palms, Aruba is the perfect holiday destination if you like sunshine and tropical waters. Unlike many Caribbean islands, Aruba has a dry climate throughout most of the year giving rise to an arid, cactus-strewn wild west landscape in the centre.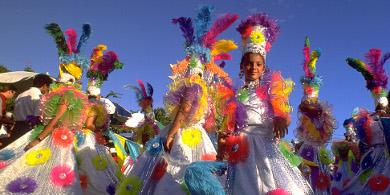 | Key Facts | |
| --- | --- |
| Languages | Papiamento and Dutch - English widely spoken |
| Currency | Aruban Florin and US Dollar |
| Family holidays | ✔ |
| Couples | ✔ |
| Capital | Oranjestad |
| Island group | Dutch Antilles |
| Known for | Festivals & Fofoti trees |
| Time difference | GMT -5 hours |
| Temperature | Average daytime high of 82°F |
| Best time to visit | Feb to May but really any time of year |
| Dry season | Feb to Sept |
| Tropical storms | June to Nov but infrequent |
| Main airport | Reina Beatrix International Airport |
However, Aruba is more than just beach life, offering an enthralling mixture of European colonial heritage and traditional island culture. Boasting more than 50 events annually, Aruba knows how to party and hosts regular, sometimes weekly, festive island celebrations for both travelers and locals to enjoy.
The main areas in Aruba are...
Palm Beach
This 2-mile strip of silky white sand is a mecca for sunbathers and water sports enthusiasts. The vacation rentals around this stunning premier resort area of Palm Beach are very popular especially for family holidays. Everything you need is close to hand and there are plenty of shops, cafes, bars and restaurants.
Eagle Beach
A lovely area to rent a cottage or apartment, Eagle beach is relaxed and a good place to chill out. It boasts wide talcum powder sandy bays scattered with wind-swept Fofoti trees, shallow warm water and for a few months a year, you can see turtles hatch from their nests and make their way to the sea.
Malmok Beach
This part of Aruba is a little more exclusive and where you'll find many luxury vacation rentals. The narrow stretch of beach with its shallow water is a popular place for snorkeling on the reefs and further out, wreck diving. The road through Malmok leads on to the famous California Lighthouse, Tierra del Sol 18-hole golf course and Arashi Beach.
Oranjestad
This is the main town and capital of Aruba. Packed with shops, bars and restaurants, wandering around this colonial town during your vacation is well worth it. Every Tuesday evening, the town comes alive as locals and guests join together for the Bon Bini welcome festival showcasing musicians, dancers, artists and craftsmen - not to be missed!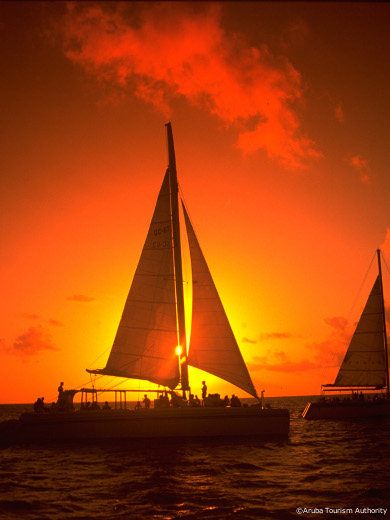 Climate
With a tropical climate, the temperature averages a very pleasant 82°F throughout the year with strong sunshine and warm crystal clear waters. Between May and October, the weather is normally dry with temperatures creeping towrds 90°F. The position of Aruba in the southern Caribbean means it escapes the hurricanes and only recives an average rainfall of just 16 inches per year - the wettest months are October through to January.
Featured Aruba villas, condos & apartments
Staying in a villa or apartment for your Aruba holidays, gives you the flexibility to do what you want when you want. The accommodation caters for all budgets and tastes from beautiful luxury villas with private pools, hilltop retreats to relax and unwind or chic and stylish apartments - there is something for everyone.
If you are travelling as a family or with friends, there is a wide choice of self catering accommodation especially around the very popular 2 mile long Palm Beach and Eagle Beach where the shallow warm waters are ideal for snorkeling. Here you will find beachfront villas and quaint traditional cottages to rent offering excellent value for money.
See all Aruba holiday rentals
Featured resorts
Top things to see & do in Aruba
At just 19 miles long and 6 miles wide, Aruba is tiny but punches well above its weight when it comes to things to see and do for all ages.
Adventure-seekers can explore the depths of Arikok National Park's rugged and wild interior during an off-road Jeep Safari tour or by hiking, biking or horseback riding.
And, if you enjoy snorkeling or diving, take a tour of Aruba's warm waters and explore the famous Antilla shipwreck, a German ship that sank just off Aruba's coast during the Second World War.
Aruba is fairly isolated in the Caribbean, but is a close neighbour of the other Dutch islands of Curaçao and Bonaire which together are known as the Netherlands Antilles.
Other acttractions
| | |
| --- | --- |
| The "Natural Pool" or "Conchi" - north Aruba | ✔ |
| Hike to the top of Jamanota (highest point) | ✔ |
| Downtown Oranjestad for shopping | ✔ |
| Aruba Aloe factory | ✔ |
| Exploring the Guadirikiri Caves and Ayo Rock formations | ✔ |
| Bushiribana Gold Smelter Ruins | ✔ |
| Stingray City | ✔ |
Our view on Aruba Vacation Rentals
With an enviable tropical climate, superb sailing and diving and home to one of the "Top 10 Beaches in the World," it is no wonder why Aruba is one of the most revisited holiday resorts in the Caribbean, with more than half of all visitors returning year after year.
List your holiday villa
Villa rentals are getting more popular with travellers from families to adventurers.
List your villa on MyCaribbeanVillas today!
List your property