Antigua & Barbuda holidays
World class beaches, laid back atmosphere and family friendly
The beautiful islands of Antigua and Barbuda are found nestled in the heart of the Eastern Caribbean. Antigua is the bigger island at 108 square miles and was born out of a volcano in the sea which created its reef lined white sandy beaches. The northwest of Antigua is home to St John's city, the capital of the islands and main port.
Barbuda is separated from its sister island by 28 miles of beautiful Caribbean sea. It has a smaller population than Antigua and is home to the largest colony in the world of the Magnificent Frigate Bird. Barbuda is a combination of wild beaches on the Atlantic side and pink sandy beaches on the westside.
Both islands are known for their rainforests and friendly and welcoming people. They are the perfect beach holiday escape with 95 miles of superb pink and white sandy beaches, warm crystal waters and wonderful climate.
| Key Facts | |
| --- | --- |
| Language | English |
| Currency | East Caribbean dollar, US dollar is also accepted |
| Family holidays | ✔ |
| Couples | ✔ |
| Capital | Saint John's |
| Island group | West Indies |
| Known for | Abundance of local seafood and high quality rums |
| Time difference | GMT -5 hours |
| Temperature | Average daytime high of 26°C |
| Best time to visit | Mid Dec to mid April |
| Dry season | Jan to Mid April |
| Tropical storms | July to Nov but infrequent |
| Main airport | V.C. Bird International Airport |
Featured villas on Antigua & Barbuda
Staying in a villa or apartment for your holidays in Antigua & Barbuda, gives you the flexibility to do what you want when you want. The self catering accommodation caters for all budgets and tastes from beautiful luxury villas with private pools, hilltop retreats to relax and unwind or chic and stylish apartments - there is something for everyone. If you are travelling as a family or with friends, there is a wide choice of self catering accommodation especially around the very popular 2 mile long Palm Beach and Eagle Beach where the shallow warm waters are ideal for snorkeling. Here you will find beachfront villas and quaint traditional cottages to rent offering excellent value for money.
See all holiday rentals
With a tropical climate, it is hot and humid all year. The temperature averages a very pleasant 26°c throughout the year. The dry season is between January and April with a lovely average temperature of approximatley 26°c and the hot, humid and rainy season runs between mid June to mid November where the temperature is an averyage of 28°c. Encountering a hurrican is very small, however between July to November they do have occasional tropical storms.
Top things to see & do in Antigua & Barbuda
The islands of Antigua & Barbuda maybe small but they punch well above their weight when it comes to things to see and do for all ages.
| A few suggestions... | |
| --- | --- |
| Explore the colourful capital of St John's | ✔ |
| Antigua - Nelson's Dockyard, with museums, shops and historic forts | ✔ |
| Antigua - Shirley Heights Lookout with spectacular sunset panoramic views | ✔ |
| Barbuda - Pricness Diana Beach, one of the best beaches in the Caribbean | ✔ |
| Barbuda - Frigate Bird Sanctuary, Codrington Lagoon | ✔ |
| Loster cruise lunch to Bird and Maiden Island | ✔ |
| Zipline through the Antigua rainforest | ✔ |
| Antigua - hike to the Pillars of Hercules (UNESCO) | ✔ |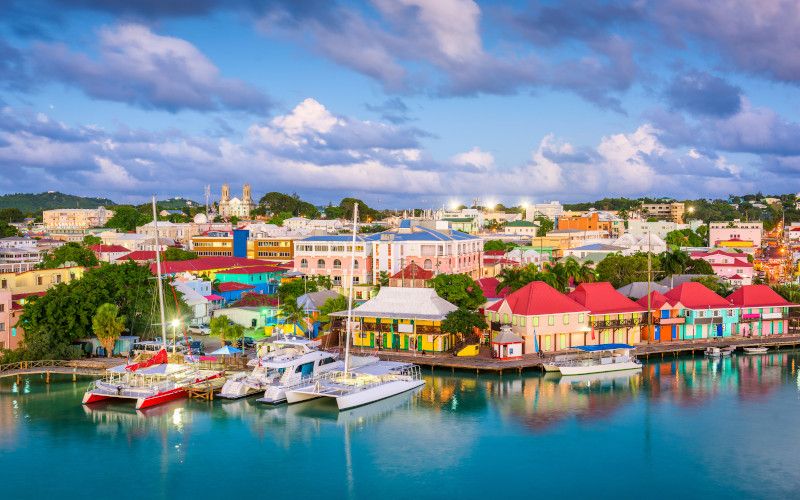 Our view on Antigua & Barbuda
With an enviable tropical climate, superb beachside restaurants, sailing, diving and home to one of the best beaches in the World, it is no wonder why these magical Caribbean islands attract tourists from around the world. And, renting your very own beach villa is the perfect way to relax and soak up the laid back atmosphere.
List your holiday villa
Villa rentals are getting more popular with travellers from families to adventurers.
List your villa on MyCaribbeanVillas today!
List your property