Turks & Caicos holidays
Holiday rentals - self catering holiday villas &apartments
Turks & Caicos is a collection of 40 stunning islands and cays of which just 8 are inhabited. They sit under the Bahamas chain, 550 miles southeast of Miami and are simply beautiful with palm fringed white sandy beaches surrounded by the crystal clear warm waters of the Caribbean.
Originally settled by the Taino and Lucayan Indians, the islands became a British colony in 1962 and are now home to 30,000 residents with around 200,000 tourists visting each year.
The attraction is not just about the climate and incredibly beautiful islands but also the rich culture, relaxed way of life and outstanding gastronomic tradition.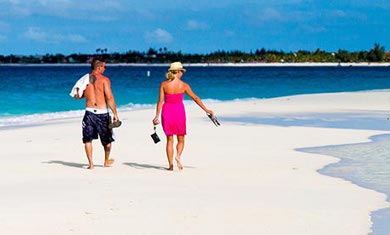 | Key Facts | |
| --- | --- |
| Language | English |
| Currency | US Dollar |
| Family holidays | ✔ |
| Couples | ✔ |
| Islands | 40 |
| Capital | Cockburn Town, Grand Turk |
| Known for | Salt raking and Conch (sea snails) |
| Time difference | GMT -5 hours |
| Temperature | Average daytime high of 29°C |
| Best time to visit | Feb to May |
| Dry season | Jan to May |
| Hurricane season | 1 June to 30 Nov |
| Main airport | Providenciales International Airport |
The main islands of Turks & Caicos...
Grand Turk
Home to the historic capital and commercial centre of Turks & Caicos, Cockburn Town is a lively place full of shops, cafes, bars and restaurants and where you will find many beachfront vacation rentals.
Providenciales
"Provo" as it is commonly known is the most developed island in the archipelago and home to luxury villas, many belonging to the Hollywood A-list and rock stars, and one of the world's best beaches - Grace Bay.
Parrot Cay
This tiny private island is where you will find the more exclusive and high end luxury villas plus the Parrot Cay Resort & Spa and Meridian Club.
Middle & North Caicos
These islands are covered with lush green forests and surrounded by stunning beaches. Middle Caicos boasts the largest cave network in the Caribbean whilst North Caicos is home to the flamingo pond and is quickly becoming a major tourist destination.
South Caicos
This small and friendly island is the centre for fishing with lobster and conch the main catch. Areas of interest include the historic Cockburn harbour and the natural phenomenon of the boiling hole.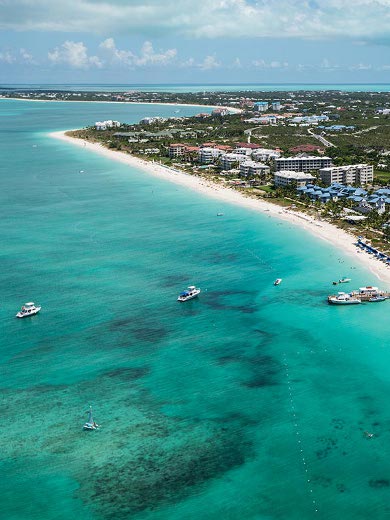 Turks & Caicos weather
With a tropical climate, the temperatures range between 27°C and 29°C between November and May with the water temperature an impressive 29°C. The hurricane season starts at the beginning of June and goes right through summer until the end of November. This is the low season where temperatures are higher and can creep up to 35°C and so is the rainfall and the humidity. There is also quite a bit of variation between the islands. Whilst the average annual rainfall in Grand Turk and South Caicos is just 21 inches, as you move further west, this increases towards 40 inches.
Featured Turks & Caicos villas
Staying in a self catering villa or apartment for your Turks & Caicos holiday gives you the freedom and flexibility to do what you want when you want. The accommodation caters for all budgets and tastes from luxury villas with private pools to hilltop retreats where you can relax and unwind - there is something for everyone.
See all holiday home rentals
Things to see & do
| | |
| --- | --- |
| Limestone caves in Middle Caicos | ✔ |
| Salt pans on Grand Turk | ✔ |
| Kayaking through mangroves to Madison Point | ✔ |
| Grand Turk cruise centre | ✔ |
| Rock Iguanas on Little Water Cay | ✔ |
| Humpback whales at Salt Cay (Jan - April) | ✔ |
Getting around
The best way to see what the islands of Turks and Caicos have to offer is by boat. It gives you the freedom to see what you want when you want and given there are 32 deserted islands and cays to explore, it will be an adventure not to be missed.
There are regular ferries between Middle and North Caicos and to get around more quickly, most of the islands are just a 15-20 minute flight by seaplane from Provo.
The main airport is Providenciales International Airport but there is also another international airport on Grand Turk called JAGS McCartney.
List your holiday villa
Villa rentals are getting more popular with travellers from families to adventurers.
List your villa on MyCaribbeanVillas today!
List your property